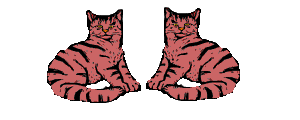 On 21 of March 2022 4 kittens were born.
The happy parents:
Father: Mother:
Nokun Les Tsars de Foncourt Havana Gzhel
On 30 of November 3 nice kittens were born! 2 boys and 1 girl.
The boy is red point and the girls are red tabby spotted
All kittens are reserved!
The happy parents:
Father: Sheldon Vistula Mother: Lovely Treasure Daisy